PLEASE ALSO CLICK Implant Teeth Now FOR MORE EXCITING TREATMENT OPTIONS
Is your "Implant Specialist" a Prosthodontist? JUST ASK! Or go to GotoaPro.org
Before development of dental implants, dentures were the only alternative to replacing a missing tooth or teeth.

Implants are synthetic structures that are placed in the area of the tooth normally occupied by the root. Implants are anchored to the jawbone and act as a foundation for an artificial tooth or permanent bridge. In some cases, implants can be used to attach dentures.

Most patients are good candidates for dental implants. In all cases, dental implants require strict oral hygiene.

Implants are so well designed that they mimic the look and feel of natural teeth. Implants are usually made of a biocompatible material like titanium or a biocompatible ceramic.

Surgery is necessary to prepare the area for an implant and place the implant in the mouth. Following the procedure, a period of time is required for the implant to take hold and for bone tissue to build up and anchor the device. In some cases, metal posts are inserted into the implant during a follow-up procedure to connect the tooth.

Implants most commonly require only minor surgery, patients are administered anesthesia (local or IV sedation if desired). If necessary, antibiotics are prescribed to stave off infection following the procedure.

Like any restoration, implants require diligent oral hygiene and proper care to ensure they last a long time.
| | |
| --- | --- |
| Before | After |

Restore your smile with Dental Implants from Drs. Polack and Olano.
Call our Gainesville, VA office at (703) 753-8753 today!


Related Articles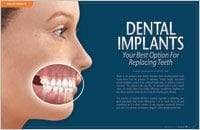 Dental Implants – Your Best Option For Replacing Teeth Dental implants have many advantages over older methods of tooth replacement like bridges and dentures — from the way they function and feel to the way they look and last. Vigorous research has documented and confirmed that in the right situations, dental implant success rates are over 95%. It is no exaggeration to say that they have revolutionized dentistry. They may even change your life... Read Article
---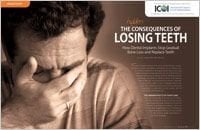 The Hidden Consequences of Losing Teeth For those missing even one tooth, an unsightly gap is actually the least significant problem. What's of far greater concern is the bone loss that inevitably follows tooth loss. Dental implants can preserve bone, improve function and enhance psychological well-being. Learn how implants serve both as anchors to support replacement teeth and preserve bone... Read Article