YOUR SMILE, OUR SPECIALTY
Tipically, implants require a six-month waiting period between placement and the insertion of the final crown or denture. That means that patients often have to wear uncomfortable and unsightly temporary dentures or partial dentures (sometimes called "flippers" - you can imagine why) for several months.

At Drs. Polack and Olano we can give you a new smile with dental implants in ONE appointment !* Most patients will qualify for this procedure where implants and all new teeth are delivered the same day* . In other words, you will likely never need to wear a temporary removable full or partial denture during your treatment. And you will never go without teeth. Most importantly, you will immediately have a set of solidly anchored implant teeth*. No more waiting between implant surgery and your new smile!*
In addition to his three years of full time graduate studies to become a Prosthodontist, Dr. Polack has received special training for this particular procedure from world-leading specialists. Is your "Implant Specialist" a Prosthodontist? Just click here to find out!
It is worth mentioning that in February 2010, Dr. Polack was awarded the Roxolid Clinical Cases Award from the Straumann Implant Company. This company created a revolutionary new implant to enhance procedures like the one being described here. To celebrate the occasion, the company invited dentists all over the world to submit clinical cases exemplifying the use of this implant. Dr. Polack was one of only three worldwide clinicians to win this award. As a result, he was invited to attend the ITI World Congress in Geneva, Switzerland, and the case study was published around the world. Come see how we can change your smile in one day! Please call us for a consultation appointment today at (703)753-8753 .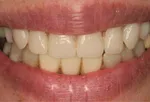 Same-day (before and after) Extractions
Placement of six implants and temporary fixed (non-removable)
full upper implant smile
---
| | | |
| --- | --- | --- |
| | | |
| Failing upper canine | Immediate Fixed Temporary | Final implant crown |
Note: In the center photograph above, the stitches are still evident since the image was taken one week after implant placement

As our examples above show, removable temporary "flippers" or dentures are not necessary after surgery for many implant procedures. With our immediate temporary technique, you can enjoy the security of a fixed non-removable temporary from the day of surgery, while you wait for the bone to fuse to your implant. This makes the process much more comfortable while immediately enhancing your esthetics and ability to function. This can be done for one tooth or a full set of teeth.
Is your "Implant" or "Cosmetic" specialist a Prosthodontist ? JUST ASK!
Please visit GotoaPro.org for more information about prosthodontics and why they are highly qualified to help you with your esthetic and functional needs.
* Qualifying patients receive a fixed (non-removable) temporary attached to the implants the same day of surgery. Results may vary.